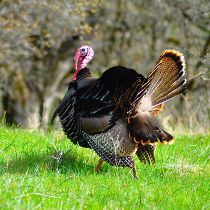 The Vermont Fish and Wildlife Board will hold a public hearing June 9 on a proposed regulation change to clarify that a crossbow may be used with a disability permit or by a hunter 50 years of age or older during turkey hunting seasons.
"This is a minor change in the existing turkey hunting regulation to make it consistent with a recent regulation for archery deer hunters," said Fish & Wildlife Commissioner Louis Porter.  "No other changes are being proposed at this time for the turkey hunting regulation."
The hearing will start at 6:30 p.m. on Tuesday, June 9 in the Pavilion Auditorium, 109 State Street, Montpelier.